Natalie Finegood Goldberg, LMFT, CST-S Sex Therapist Los Angeles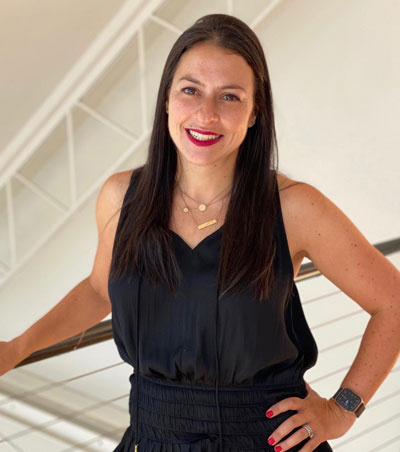 Natalie Finegood Goldberg, Clinical Director of Creating Change LA, is an AASECT Certified Sex Therapist, Sex Therapy Supervisor, and Licensed Marriage and Family Therapist (CA MFC 53017, AZ LMFT-15533, FL TPMF130) specializing in sex therapy and psychotherapy. Working with individuals and couples, Natalie offers general psychotherapy and sex therapy in Los Angeles at her private practice. Previous work experience include being a staff clinical associate at Center for Healthy Sex in West Los Angeles, as well as having previously worked at Cliffside Malibu, a dual diagnosis inpatient drug and alcohol rehab. Natalie ran men's groups for a dual diagnosis intensive outpatient program. She assisted men in drug and alcohol recovery with developing healthy intimate relationships. Natalie was born and raised in Los Angeles. Inspired by a high school psychology class, Natalie knew she wanted to be a psychotherapist from an early age. Natalie regularly contributes to many news articles, podcasts, and websites as a Sex Therapy Expert. Please Click Here to read more.
Education
Natalie graduated from Antioch University Los Angeles with a Masters degree in Clinical Psychology, specializing in Marriage and Family Therapy. Prior to that she received her BA in psychology from Wesleyan University in Connecticut, where she was a member of Psi Chi, the international honor society in psychology.
Professional Activities and Memberships
Natalie completed her internship hours at the Women's Clinic and Family Counseling Center. Prior to that she spent 4 years working with clients who suffer from dual diagnoses and drug and alcohol addiction at an inpatient treatment facility. She also worked as a school counselor, offering support to high school students through Outreach Concern. Natalie began practicing sex therapy in Los Angeles at the Center for Healthy Sex. There she ran groups in the intensive outpatient program for Sexual Addiction and provided individual and couple counseling. Natalie is a member of CAMFT, the California Association of Marriage and Family Therapists, LAGPA, the Lesbian and Gay Psychotherapy Association of Los Angeles, and AASECT, the American Association of Sexuality Educators, Counselors and Therapists.
Additional Training
In addition to her degrees, Natalie has participated in a variety of trainings including a Clinical Sexology training with Dr. Patti Britton, Bridging the Couple Chasm: A Research Based Approach by Drs John and Julie Gottman, and the Sex Addiction Treatment Training Program with Alexandra Katehakis, MFT, CSAT-S, CST-S. Natalie became a Los Angeles Sex Therapist through the American Association of Sexuality Educators, Counselors and Therapists (AASECT) under the supervision of Alexandra Katehakis, MFT, CSAT-S, CST-S and Dr Tammy Nelson, CST-S. Furthermore, Natalie is trained in EMDR Therapy with advanced training in AF-EMDR (Attachment Focused EMDR) with Dr Laurel Parnell. Most recently, Natalie trained under Dr. Stephanie Buehler to become certified as an AASECT approved Sex Therapy Supervisor. In addition to being a sex therapy provider, Natalie supervises other therapists in their journey to become sex therapists themselves.
Session Information
Sessions are 50 minutes in length, and the fee for therapy with Natalie is $325 per session ($195-$225 for Creating Change LA staff therapists). Unfortunately, Natalie is not in-network with any particular insurance companies. Natalie can provide a superbill (receipt for services) at the end of each month to be submitted to your insurance company. It will depend on your plan, benefits, and insurance provider as to whether or not they will reimburse. With this in mind, contact your insurance company to find out what your "out of network mental health benefits" are. On occasion, sliding scale fees may be available. Please contact Natalie to learn more.
Want to Learn Sex Therapy with Natalie?
Want to become a sex therapist Los Angeles? Natalie is a certified supervisor for AASECT.  As such, she can provide supervision towards AASECT Sex Therapist certification for licensed and unlicensed mental health professionals. For a list of Natalie's upcoming speaking engagements, please click here to contact her.